Process Design Drawings Rijksmuseum - Reinier Baarsen
Format
221 x 279 mm portrait
Size
408 Pages interior in 8 pages cover
Paper
Interior 115 gsm Arctic Volume
Cover 300 gsm uncoated sulfate board
Print
Inside 4/4 full color LED-UV
Cover 4/0 full color LED-UV
Finishing
Sewn-glued with colored thread (Liberty fabrics 0616), cover with scratch-resistant matte laminate and upward embossing, book block with 12x tab punched in 1 bleed. Tab punch size 9.3 mm deep, 18 mm high with 2 rounded inside corners.
Design: Beukers Scholma
Relevant articles
Read new and relevant articles written by our experts.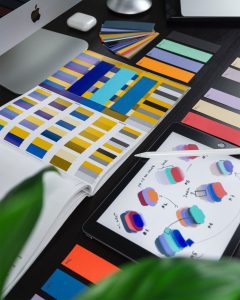 Working with a design firm has several advantages. If you get hold of a good design firm, [...]