Every year at the end of the year there is a unique opportunity, but that opportunity is no longer recognised by everyone.
Desk pads, wall and desk calendars. The possibility to subtly get your company, product or service under the nose of your customer for a whole year.
Every year, large companies spend considerable amounts of money just to stay top of mind with the target group. With a desk calendar you can make sure that your target group has your logo in front of them all year round with a limited investment.
Every month a new message, or every month a different product on your customer's retina. Unnoticed and unconsciously, your name or message crawls between your ears! That's what you want when you invest your marketing euros!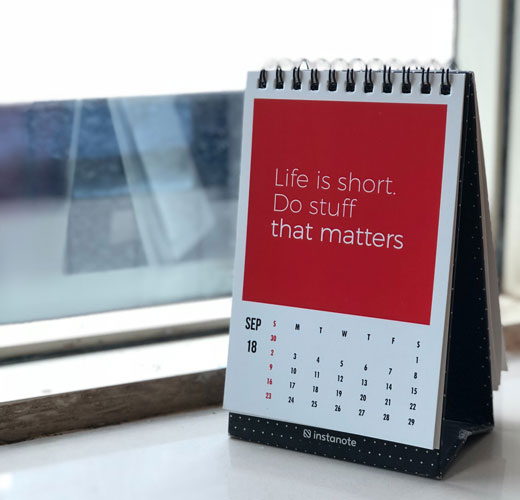 Of course I hear you thinking, an agenda/calendar? Everyone has a digital calendar these days. That is true, but not all digital calendars have the week numbers. Sometimes it's just useful to be able to look at a calendar with week numbers next to your computer screen when planning activities. Important days, whether or not related to your industry, can also be displayed.
If you also make sure that such an item is beautifully designed, executed with striking materials or special printing techniques, then it is also a "jewel" on a desk.
The bottle of wine is about to run out, but your calendar will remain in place for an entire year.
Curious about the possibilities, please contact us. The year is almost over!
Of course you can also hand out the calendar in January, together with your New Year's greetings. Do you have a little more time? But make sure you make something special. After all, you run the risk that there is already another calendar on the desk with which you have to compete. Remember that quality takes precedence over speed!
We wish you a successful 2019!